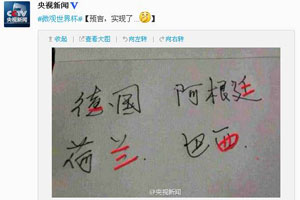 As everyone already knows - the World Cup has ended. And now, it turns out Chinese characters accurately predicted the top four winners – Germany, Argentina, Netherlands, and Brazil. Believe it or not, the Chinese characters used to write the names of these countries all have strokes that refer to their exact position.
  For example, one of the Chinese characters for Germany includes one horizontal stroke - indicating it took home the trophy - and there are two horizontal strokes in one of the characters for Argentina – referring to its second position. Additionally, the Chinese character Si, meaning four, can be seen in one of the characters for Brazil. It is difficult to trace who initiated this, but the image above has been trending on Chinese social media for weeks.
  However, it cannot be taken seriously as – for example – people could also say that the Chinese character for Netherlands includes the character for Yi, meaning one. And, of course, the Netherlands did not win.