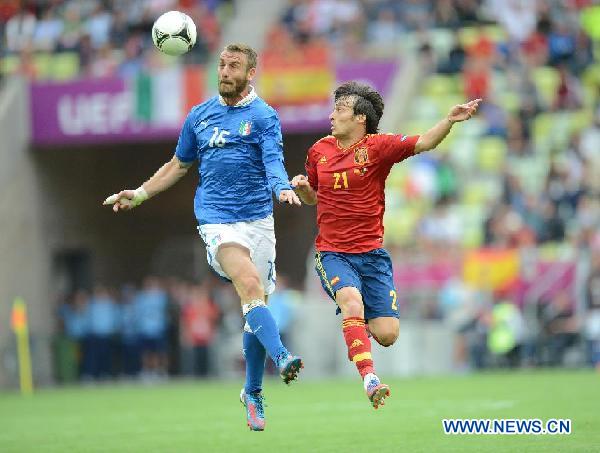 Daniele De Rossi (L) of Italy vies with David Silva of Spain during their Group C match at the Euro 2012 football championships in Gdansk, Poland, June 10, 2012. The match ended in a 1-1 draw. (Xinhua/Liu Lihang)
  GDANSK, Poland, June 10 (Xinhua) -- World champions and Euro 2008 champions Spain were held to a 1-1 tie by Italy in the Euro 2012 Group C opener here on Sunday.
  Di Natale, who substituted Mario Balotelli in the 56th minute, gifted Italy 1-0 lead in the 60th minute when he slipped through on goal by a wonderful pass from Andrea Pirlo and found the corner of the net with a cool finish.
  But Spain striker Cesc Fabregas tied the score only after four minutes. With a fine passing, Silva slid Fabregas in and the latter slammed the ball past Italy keeper Gianluigi Buffon.
  Balotelli, the rising star striker from new English Premier League champions Manchester City, stunned the world in the 54th minute when he got a solo run through a tackle. But he hesitated at the goalmouth without any clear action. Then a chasing defender came to ruin the scoring chance.
  Italy coach Cesare Prandelli forgave Balotelli, telling the post-match press conference that he would not punish the Man. City striker.
  "He is still a young player who may make mistakes at any time, " Prandelli said. "At that moment, he may thought about several plans but failed to choose the right one."
  He noted that it was his pre-plan to send in Di Natale to replace Balotelli, which had nothing to do with Balotelli's mistake.
  In the 74th minute, Spain made a surprising change, Fabregas out and Fernando Torres in. From then on, Torres, who showed poor performances in the 2010 World Cup despite Spain won the title, squandered at least three clear scoring chances. His bad form continued in the Euro 2012.
  In injury time, Spain would have a stupendous goal as Andres Iniesta beat three men, found Navas, who teed it up for Alonso but his shot squirmed wide of the far post.
  The most interesting thing was that the starting list issued one hour before the kickoff showed Spain's no striker plan.
  Spain coach Vicente Del Bosque said that Fabregas was a special player who could play well in the midfield and the front. "I just tried to use this point today."
  "Italy is a great team and it was a difficult match. We preferred to win but this is football. We will try to play better in the next two games," he added.
  The 0-0 first half was entertaining. There were lots of neat, short passes from Spain, but they did not change the possession into a tangible cutting edge. Neither side got clear cut chances.
  Prandelli said," Spain is a great team. They are world champions. It is not easy for us to beat them in ball possession. But we can beat them in other areas. The 1-1 draw today is fair."