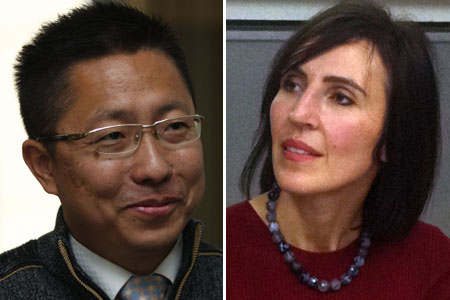 Li Yang (left) is the founder of Crazy English. Kim Lee is the wife of Li Yang. [File photo: China Daily]
  When the founder of Crazy English's wife finally got up the courage to take the spotlight, she wanted her silver-tongued husband to be the one listening for a change, she said recently.
  "At first my reaction was similar to what any woman who has gone through domestic violence feels," Kim Lee said. "I was scared, I felt helpless and I did not want others to know about it."
  Lee is married to Li Yang, whose Crazy English teaching method encourages students to speak the language out loud while they are learning it. She recently filed for a divorce from him, and the Beijing Chaoyang District People's Court plans to hear the case on Dec 15.
  On Thursday, Lee appeared at the Maple Women's Psychological Counseling Center in Beijing with her 9-year-old daughter.
  "I actually sent a short message to Li Yang to invite him to come to hear," she said. "I had been spending time listening to his speeches, but he had never heard mine."
  In late August, Lee began going to her micro blog to post photos of what she said was her bruised forehead and her bloodied ear. She accused Li of abusing her.
  On Sept 10, Li confessed that he had beaten his wife and apologized for his misdeeds to the public. He also declined to divorce Lee.
  Lee said she, at one time, had responded to the violence passively.
  "At first I did not fight back because my 57-kg body had no way to fight Li's 90-kg weight," Lee said. "But that only made the violence grow (more) severe."
  In August, Lee took one of her children to the Tuanjiehu police station in Beijing's Chaoying district to ask for help. The police repeatedly tried to call Li Yang but did not receive an answer. In the end, they took Lee to the hospital.
  "I had happened to lose my address book and I could only remember five or six phone numbers," Lee said.
  Lee sent short messages to several people and received no replies.
  "I did not know where to go," Lee said. "I really need help, and I need to get in touch with my family and friends."
  Rather than accept her circumstances, she began writing about her experiences on her micro blog. She said she hoped her friends would read about what was happening to her and come to help her.
  And there was another reason she wrote about her plight online.
  "I couldn't find Li Yang at that time," she said. "And since he likes browsing micro blogs, I thought my posts might draw his attention.
  "I did not have many fans (on my micro blog) before this incident, and I did not want to become famous
  "But now I'm famous," she said with a sigh.
  She said she wants to protect her daughters from domestic violence.
  "They'll be wives like me. I don't want their world filled with violence."
  Since Lee began writing her posts about the alleged abuse, blog readers have forwarded them more than 8,100 times and her micro blog now has 69,513 fans.
  As for the divorce, Lee said she is confident she will be granted it.
  Guo Jianmei, a member of China Law Society who also attended the conference, said the greatest difficulty posed by the filing will lie in dividing property between Li and Lee.
  He said it will be hard for Lee to obtain evidence showing what Li owns.
  "I advised Kim to try to get more compensation from this suit," Guo said. "I want her case to bring more attention to this issue in the future."
  He said Lee's actions set an example of how women should deal with domestic violence.
  Lee said she will weigh Guo's advice and that she hopes the public will let her settle her private affairs in peace.
  "I'll show the suit result to the public," she said.
  "Maybe I am now still kind of in love with Li Yang, but divorcing him is my best and the only choice."