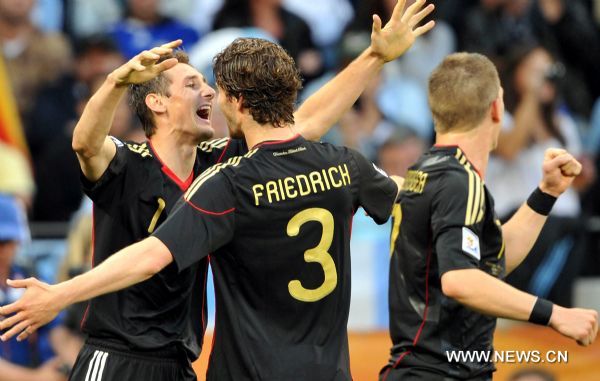 Players of Germany celebrate the victory after the 2010 World Cup quarter-final soccer match against Argentina at Green Point stadium in Cape Town, South Africa, on July 3, 2010. Germany won 4-0 and is qualified for the semi-finals.(Xinhua/Yang Lei)
  JOHANNESBURG, July 3 (Xinhua) -- The 2008 European champions Spain edged Paraguay 1-0 here on Saturday night to set up a World Cup semifinal clash with European runners-up Germany, who whitewashed hot favorites Argentina 4-0 this afternoon.
  After a penalty drama, David Villa's winner gave Spain the crucial victory.
  In the 83rd minute, Barcelona midfielder Andres Iniesta slalomed through two defenders and laid the ball off to forward Pedro whose shot rebounded off the post to Valencia striker David Villa. Villa, who had already scored four goals in the World Cup, scrambled the ball home to top the scorers' list. Interestingly, his effort hit both posts before rolling over the line.
  The peanlty drama, however, was the most eyecatching scene tonight.
  In the 56th minute, Paraguay were awarded a penalty for Pique tugging down Cardozo in the box. But Casillas dived low to his left and held onto the ball.
  Then the ball pumped straight down the other end. Paraguay defender Antolin Alcaraz hacked down Villa to award Spain a penalty. Alonso converted the penalty, but was forced to retake it.
  Paraguay keeper Justo Villar, the skipper, dived to his left and saved it.
  Besides the two keepers, referee Carlos Batres also became a hero in the drama.
  The last time two penalties were saved in the same World Cup match was in 1930 in a match between Argentina and Mexico.
  Paraguay coach Gerardo Martino said,"We had chances but didn't take them."
  Spain did not show their best form in the first half, failing to collect a single shot on target.
  After the penalty drama, both teams seemed to be settling into the pattern of play from the first half. But Villa's dramatic goal saved Spain.