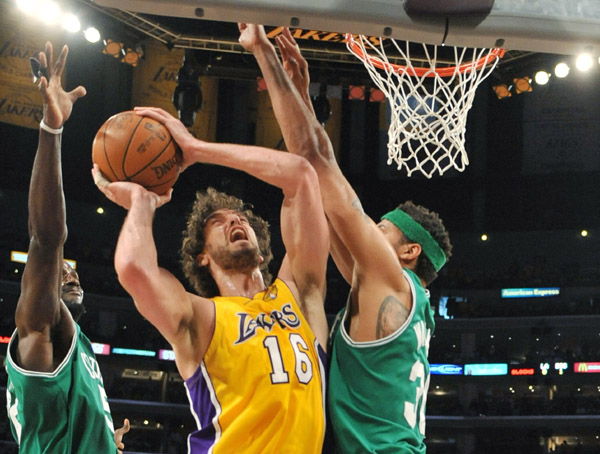 Los Angeles Lakers forward Pau Gasol (C) goes to the basket as Boston Celtics center Rasheed Wallace (R) and forward Kevin Garnett defend during Game 7 of the 2010 NBA Finals basketball series in Los Angeles, California June 17, 2010. Lakers trounced Boston Celtics 83-79. (Xinhua/Reuters Photo)
  LOS ANGELES, June 17 (Xinhua) -- Defending champions Los Angeles Lakers rallied to overcome a fourth-quarter deficit to trounce Boston Celtics 83-79 here Thursday in Game 7 of 2010 National Basketball Association (NBA) finals, claiming their 16th champinoship to the Celtics' 17.
  Kobe Bryant, crowned the finals MVP in a row, scored the game's highest 23 points with an 6-of-24 shooting.
  "This was the hardest one by far. I wanted it so bad, and sometimes when you want it so bad, it slips away from you. My guys picked me up, " said Bryant who capped his fifth title with the Lakers.
  Ron Artest added 20 points while Pau Gasol shot 19 points for the Lakers, who made just 27 of 83. After struggling for three and half quarters, Bryant and Gasol finally came alive by draining 19 points together in the deciding fourth quarter.
  Paul Pierce got 18 points and 10 rebounds for the Celtics and Kevin Garnett added 17 points, but the Celtics failed to seal the series in Los Angeles by wasting two chances after they won Game 5 and led 3-2 at home.
  The team who outrebounded the other came out to be the winner during the best of seven series. The Lakers outnumbered their arch-rival Celtics 53-40 in the final game and shot 22 of 30 free attempts comparing to Boston's 15 of 17.
  The Lakers will hold a parade on Monday. A rally last year attracted 95,000 fans.