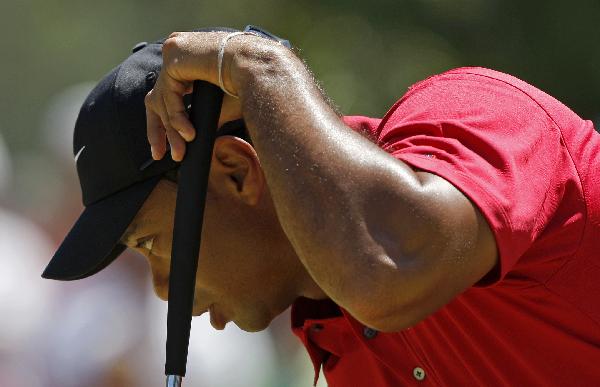 Tiger Woods of the U.S. lines up a putt on the fifth hole during final round play of the Tournament Players Championship PGA golf tournament at TPC Sawgrass in Ponte Vedra Beach, Florida May 9, 2010. Woods's woes continued on Sunday when a painful neck forced him to withdraw from the Players Championship after six holes of his final round. (Xinhua/Reuters Photo)
  BEIJING, May 10 (Xinhuanet) -- Tiger Woods left the Players Championship game on the seventh hole with neck pain, news reports said on Monday.
  Before the eighth round of the game, Tiger Woods suddenly withdrew with his hurting-neck and bowing-head.
  Frustrated to take questions, he only said that his doctors suggested that the cause could be the bulging disk in his neck, "I've been playing with a bad neck for quite a while."
  Woods felt the pain after he finished his seventh hole, and then asked a marshal for assistance, "I've been playing through it. I can't play through it anymore."
  There were many pains for Woods, both physical and emotional, however, it was the first time that his draw has made public attention of his neck problems.
  (Agencies)