Experts have called upon domestic charity donors, especially celebrities and companies, to make their donation commitments in a prudent and rational manner, to ensure the commitments are fulfilled.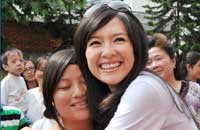 "Before making oral commitments to donate large amounts of money at big charity activities, many donors haven't carefully thought over their promise or how to carry it out," said Yang Tuan, a leading expert on philanthropic studies, and deputy director of social policy research center at the Chinese Academy of Social Sciences (CASS).
  "That is one of the main reasons leading to the frequent incidents of fraudulent donations in the country," said Deng Guosheng, an associate professor of the school of public policy and management at Tsinghua University.
  The remarks came after actress Zhang Ziyi on Monday donated 160,000 yuan ($23,400) to make up for the shortfall between the one million yuan she had pledged to donate to the Chinese Red Cross Foundation (CRCF) on May 2008 to aid earthquake relief in Sichuan, and the actual amount she donated, said Zhang's manager Ji Lingling in an apology letter published in the Beijing News yesterday.
  An online article on tianya.cn said that Crouching Tiger, Hidden Dragon superstar Zhang had given only 840,000 yuan of her promised donation to help those affected by the May 12 Sichuan earthquake, the Southern Metropolis Daily reported on Jan 28.
  On Feb 5, Ji told sina.com that Zhang had already contributed the full one million yuan in cash and denied allegations the actress did not donate as much as she promised. But the manager's answer aroused more heated criticism.
  In the latest apology letter, Ji said she and Zhang were unaware only 840,000 yuan had been donated until CRCF sent them a receipt for the sum, and Zhang immediately made up for the shortfall once finding it out.
  "It is a serious error on my part as a member of the management. I am truly sorry for the error caused by my negligence. The error exposed Zhang Ziyi to unreasonable speculation and criticism and affected her negatively," Ji said in the letter.
  On Monday, CRCF confirmed in a statement on its website that it had received the 160,000 yuan and that Zhang's donations to help the earthquake victims now totals one million yuan.
  The donor should fulfill the commitment within the time limit according to the donation agreement, according to the donation law that took effect in 1999.
  "However, many commitments were made orally at charity campaigns, and it's very hard to find out later whether the promise was kept," Yang said.
  It is also noteworthy that many corporate donors in China could not keep their donation promises, she noted.
  "Not a few corporate donors vowed to donate in public in order to improve their companies' images. Due to a lack of credibility of the companies and difficulties in the authorities' law enforcement, many such oral commitments could not be followed through," Deng with Tsinghua said.
  "Campaign-style donation activities are very common in China, but inappropriate. The authorities should encourage citizens' donation with small sums of money, volunteering activities and other more practical philanthropic activities," CASS researcher Yang said.